Jessy Bunny: Caught In The Act Again
Jessy Bunny: Caught In The Act Again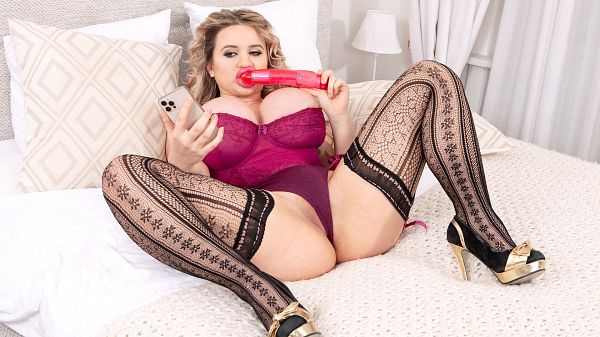 Jessy Bunny is dressed in sexy lingerie and lying in bed. She's absorbed in watching a video of Victoria Lobov fucking two dudes. Jessy sucks on a big toy to satisfy her oral cravings while she watches Victoria.
The super-busty blonde vixen puts the phone down to concentrate on masturbating, horny after watching Victoria in action. She takes off her panties and rubs her clit and pussy lips while she sticks the toy in her asshole.
Just as Jessy is building up rhythm, Perry Layne walks into the bedroom. Caught in the act again. She's always getting caught when she masturbates. Perry takes over for Jessy, working the sex toy deep into her butthole. He takes his dick out for Jessy to blow and fingers her clit with his free hand.
"I love seeing a dick getting between my tits," Jessy said. "There are so many titty-fucking positions I love. I love to give a man sixty-nine with my gigantic titties or me sitting in front of him." Jessy loves to suck the head of Perry's dick when it travels through her cleavage and reaches her mouth.
Perry fucks Jessy in her pussy as she sucks on her toy. She sucks his cock some more, and with his dick wet from fucking her throat, he fucks her pussy from behind.
Her ass toying makes her yearn for a cock in her butt. She gets on top with her back to him and sits on his dick, inching it up her ass. Perry wants Jessy in a submissive position and puts her on her knees, the better to deep-pump her anally.
Fucking Jessy Bunny is not just fucking. It's an adventure.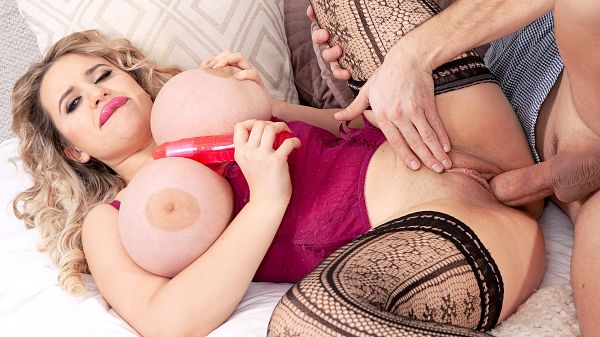 See More of Jessica Bunnington at PORNMEGALOAD.COM!