Kitty Cute: The Key To The Titty of Kitty
Kitty Cute: The Key To The Titty of Kitty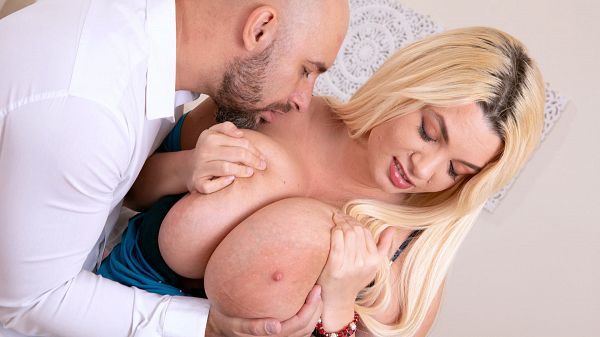 Kitty had big plans for a lavish dinner out and a movie with Neeo but he's very late. They've missed the restaurant seating and the movie, and now Kitty feels upset and angry. Big mistake. Ya just don't do that to Kitty Cute. Not if you want to suck those big, big tits and get into her panties. Neeo tries to get back on her good side by bringing her flowers and trying to charm her. Annoyed, she hits him on the head with the flowers to emphasize her point.
Even though she's still sulky, Kitty lets Neeo get close and playful. He manages to get her to calm down and forgive him so he can fondle and suck her massive bra-busters.
Persistence pays. Kitty lowers her dress to expose her tremendous treasures and sits on the edge of the bed. She slaps Neeo's package to show she's still miffed. He finds her resistance stimulating and drops his pants to show her his erection, which is his way of paying a girl a compliment.
As Kitty sits on the bed, Neeo wedges his cock between her tit-valley so they can play breast-games. He puts Kitty on her back so he can also fuck her boobs in classic style.
Neeo wants to fuck that sweet Kitty pussy. He takes her in missionary, puts her on top for a ride and pumps her from behind. Wanting more of her tits, he buries his cock in her cleavage again. Her melons are addictive.
It's no simple matter to find girls who have tits like Kitty Cute's tits.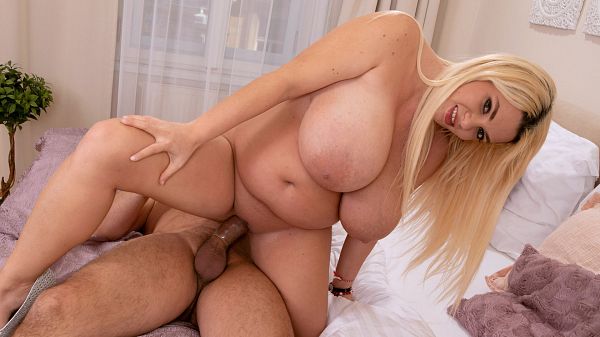 See More of Kitty Cute at PORNMEGALOAD.COM!