Tahnee Taylor returns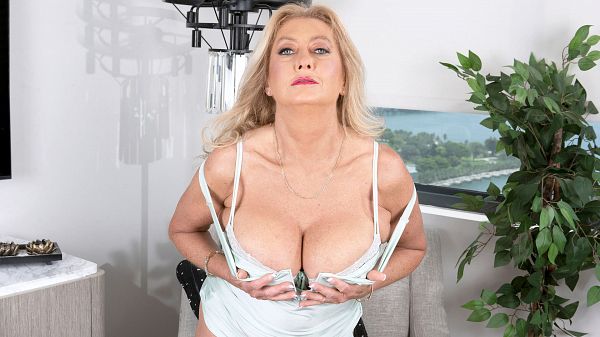 In most cases (we'd say 90% of the time), a woman shoots a few scenes for our mature websites and we never see her again. Having crossed one thing off her bucket list, she goes back to her everyday life. Raising kids. Being a grandmother or wife. Sowing her wild oats as a divorcee. She came to us for the excitement, to do something most women don't do, and has since moved on but with a sexy secret.
This wasn't exactly the case with divorcee and mom Tahnee Taylor. She first shot for us in 2007 (a solo scene) and returned in 2012 to fuck on-camera for the first time. She did anal, too, and a few years later, in 2014, she let two guys take turns on her big tits, pussy and tight ass for our viewing pleasure.
But then Tahnee dropped out of sight. We thought we had seen the last of her. After all, as of this past April, eight years had passed since she'd last walked into our studio. But a few months ago, she emailed us. She was 57 years old, and wanted to shoot for us again. Did we want her?
Well, we took one look at the test shots she sent along and knew we definitely wanted her. Tahnee looked more beautiful than ever, and her big, natural tits were bigger than before. They were DD-cups. They're now DDD-cups. Maturity will do that to a woman's rack.
So, this is Tahnee's comeback week at 50PlusMILFs.com (prior to this, all of her scenes were at 40SomethingMag.com). She told us she decided to come back because she'd been doing some webcamming and wanted to give her fans some new stuff to jack off to. Today, Tahnee re-reveals her tits and beautiful body and gets off. And Thursday, Tahnee fucks again.
We're proud that Tahnee chose us for her comeback. We hope she sticks around for a while this time. And if she doesn't…well, we'll just have to look forward to seeing her when she's 65.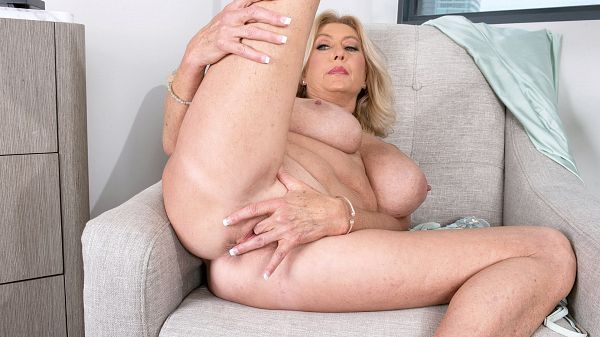 See More of Tahnee Taylor at PORNMEGALOAD.COM!