A Horny Little Redhead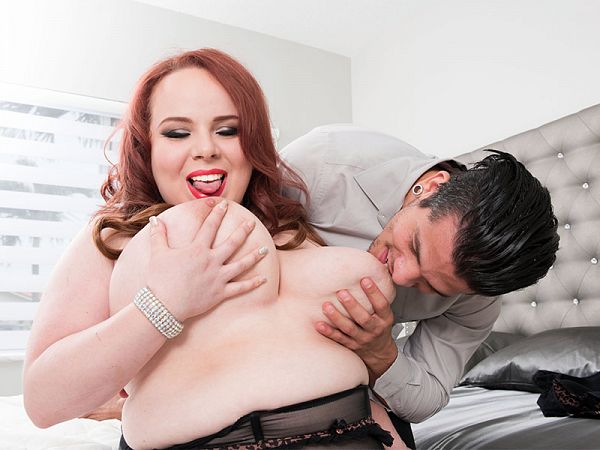 Sexy redhead Quinn Rain has a surprise for Bambino when he walks into the house. Quinn is waiting for him and she's dressed in calendar-girl lingerie complete with stockings. She looks eager for his hands to roam her lush body and squeeze her big fleshy tits. She's sweet-smelling and soft. Quinn is only 5'1″ so her 46-inch tits look even bigger. Her boobs are only 15 inches less than her height. Think about that for a second. They go straight into the bedroom, hot for sex.
Quinn kneels by the bed and wraps her lips around his meat. Bambino holds her head as she bobs back and forth, sucking him hands-free. He pumps her mouth and savors the sight of her sexy eyes staring at him with his cock fucking her mouth. She goes deep and almost gets every inch of cock down her throat.
Quinn cups her heavy boobs together for a tit-fucking, staring and smiling at him. He puts his hands over hers and pushes her breasts together for an even tighter squeeze. She flicks her pink tongue out when the cock-head emerges from between her boobs. "I like when you fuck my tits," Quinn says smiling, her eyes lighting up.
They get on the bed, Quinn on her back, legs spread wide. Bambino holds her legs open by the ankles, slowly sticks his cock into her young pussy and starts to pump, getting in deep. She likes to play with her tits when she's getting fucked. Our kind of girl.
See More of Quinn Rain at XLGIRLS.COM!