Tahnee shows off her assets
Tahnee Taylor, a 57-year-old, big-titted divorcee and mom, comes across as shy and reserved when you first meet her, but once she breaks out of her shell, there's no stopping her. Here, her shell is a lace top that shows off her natural DDD-cup tits. Tahnee plays with them just for you, and if you're a tit man, you're going to love what you're about to see. And if you just love sexy, horny MILFs, you're going to love watching Tahnee deep-fingering her very wet pussy.
Tahnee said, "What makes me feel sexy is being adored by men and women while I'm dressed up conservatively but sexy."
She also said, "My biggest asset mentally is my brain, and physically it would be my heart."
Hmmm…her heart is bigger than her tits? She must be the most generous woman in the world.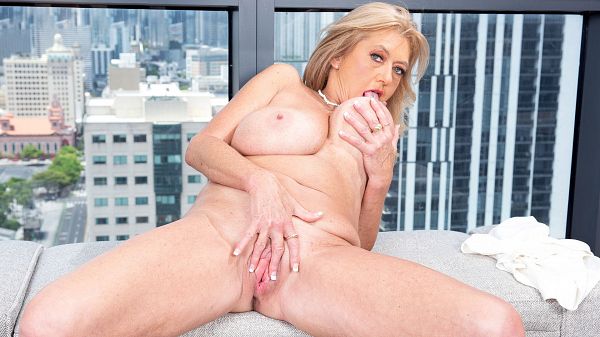 See More of Tahnee Taylor at PORNMEGALOAD.COM!