Kristi gets a workout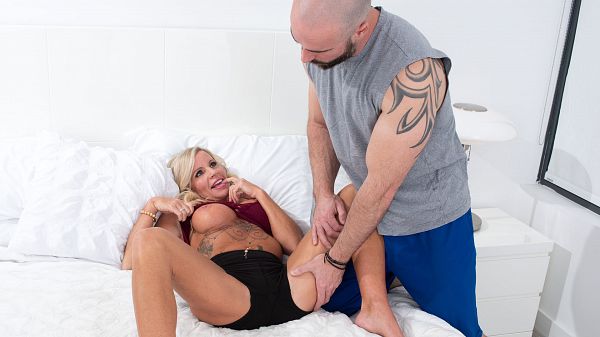 Kristi Kream, a 44-year-old divorcee and genuine MILF, doesn't look like she needs to get more fit. The woman is in great shape. Nonetheless, she has a new personal trainer who comes to her home, which, as we know, is the way things work in the world of MILFs and their personal trainers. Kristi wants to work on stretching and flexiblity, so she gets down on a workout mat, right? Wrong. She gets down on her bed and spreads her legs.
"Wow!" he says. "It looks like you're pretty flexible already."
What's probably not flexible at this moment is his cock. It's probably very stiff.
"What else would you like to do?" Kristi says.
He says he can stretch her out "depending on how hands-on you want me to be."
She decides he can be as hands-on as he wants to be.
This is training?
"I think you should explore more and see how flexible I am," Kristi says.
What follows is sloppy dick sucking and hard fucking, the kind you won't see at your local 24-Hour Fitness. He pounds her pussy hard. She takes every inch. Now that's a workout!