Big-titted Mona returns!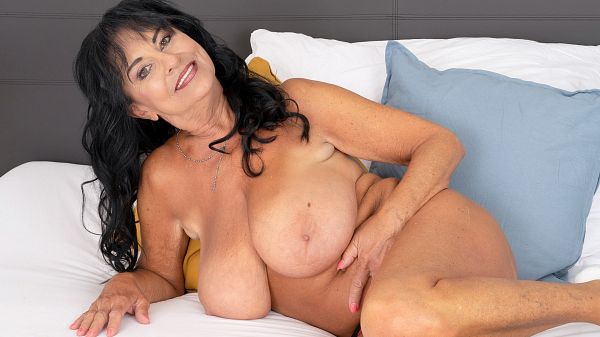 Here are two very important things to know about Mona Marley: She's 65 years old and she has big tits. You've seen her here before. Now, a year later and older, Mona is back to, well, moan as she plays with her big, tan-lined naturals and pleasures her old cunt.
Mona is a divorcee, mother and grandmother who was born in Slovakia and lives in the Czech Republic, world capital of girls and women who love to suck and fuck on-camera. To refresh your memory, she used to work for a children's charity. She enjoys aerobics, playing the piano and skiing. She isn't a swinger. She used to be a nudist. As for her sexual fantasies, "I keep them to myself." Unless, of course, she's fucking on-camera for all the world to see.
She used to be the assistant to the head manager of a large corporation. We're wondering if Mona was the head manager…if you get our drift. If she gave him blow jobs in his office. If she walked around the office with her tits hanging out of her tops. Well, maybe. Mona did say she dresses mostly elegant, "although I like to show some cleavage."
Fetishes: "Shoes and stockings."
How often she has sex: "Every day."
Sex with younger men: "Yes. He was 18 years old. He came too quick."
Sorry to hear that. We hope that young fella got to enjoy Mona's tits.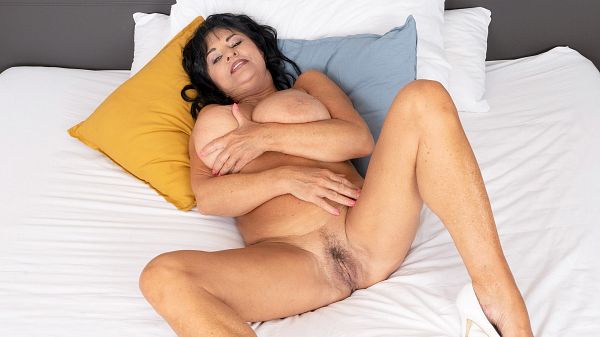 See More of Mona Marley at PORNMEGALOAD.COM!