Asha Heart's first porn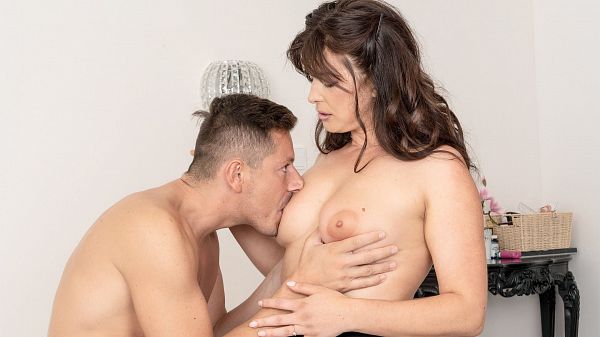 Asha Heart, who's 42 years old and a wild swinger, has done a lot of fucking in her life. She hosts sex parties. She's been in gang bangs. She has sex two or three times a day "in different ways with different people." But she's never had sex this way: on-camera with a professional porn stud for all the world to see. So, we asked this wife from Poland if she likes being watched while fucking.
"I don't need it, but I love inspiring people who watch me and I get turned on," she said. "At clubs, when people watch me, I like their reactions when I squirt. It turns me on that they want to go have sex."
This scene will make you want to have sex with Asha. Or jack off. Or both.
40Something:What kind of men do you like?
Asha: Sensual, kind, funny, intelligent, hairy-chested, open-minded, puts a woman's needs first in sex.
40Something:Describe your perfect day:
Asha: Morning sex, a healthy breakfast with views, a walk in the mountains, dinner at sunset, long, deep talks, sex again then hugs to sleep.
40Something:Are you into anal sex?
Asha: Yes, I love it. I love DPs. Two or more guys taking turns on my ass.
See More of Asha Heart at PORNMEGALOAD.COM!