Amber Alena & Her Extreme String Bikini
Amber Alena & Her Extreme String Bikini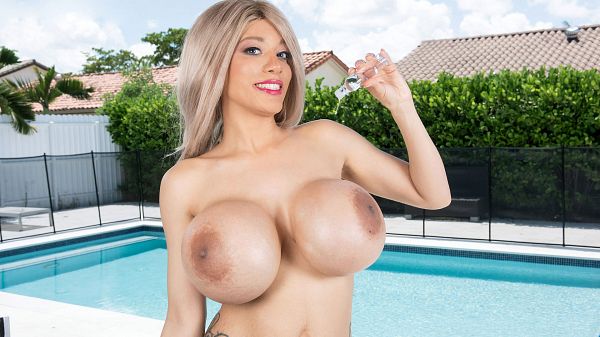 Judging by the emails from SCORE magazine readers and SCORELAND members, the #1 favorite outfit they want to see Amber Alena wear is her birthday suit. #2 is skimpy bikinis or monokinis. So here we have Amber wearing a green string extreme bikini at poolside. She's ready to turn you on with her hot, super-slim figure, huge tits, beautiful face and sexy-sweet voice. You'll be hearing a lot of Amber's silky voice in this video as she takes you on a guided tour of her delicious body.
We once asked Amber about sex on-camera and in her personal life.
"To me, sex isn't different on-camera versus everyday sex if two people are comfortable. If it's uncomfortable, then it is less enjoyable the same way for me on-camera or off-camera."
SCORELAND: How would you describe your sexual personality?
Amber Alena: I'm passive at first but then I open up once I get sexually stimulated.
SCORELAND: What sexually satisfies you best?
Amber Alena: Foreplay, building up the intense passion, kissing and making out and, of course, sex.
SCORELAND: How often do you have sex these days?
Amber Alena: Every week is great!
SCORELAND: Your favorite positions?
Amber Alena: Missionary, riding on-top and other positions are good.
SCORELAND: Any favorite fantasies?
Amber Alena: I would love to have sex in more public spaces.
See More of Amber Alena at PORNMEGALOAD.COM!