Popping for Amber Alena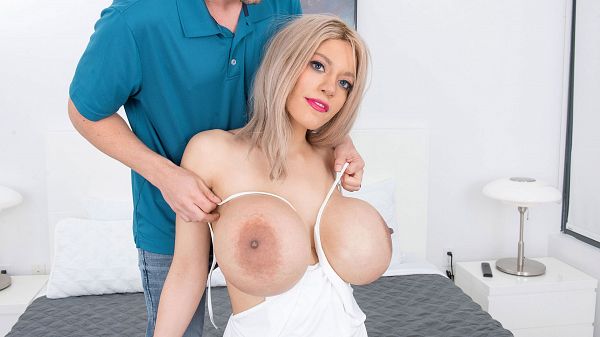 Wearing a low-cut white dress that shows off plenty of major cleavage, Amber Alena sits on the edge of the bed for a couple of minutes of chat with Nicky Rebel. He has the honor of getting his cock worked over by the slim, hot knockout.
When he asks Amber what she likes to do with her massive tits when she has sex, she tells him in her baby doll voice she's rather show than tell starting with nipple-sucking and tit-fucking and ending with her boobs glazed with semen.
"My nipples are really sensitive," the blue-eyed beauty told us. "They've always been sensitive, and each time I get bigger, they keep getting more sensitive and excited. I love touching my breasts all the time. It's something I do for fun."
That answered one of the questions we often ask the girls: Do you find yourself automatically touching your boobs?
Amber is the covergirl of SCORE magazine Volume 31, Number 4, coming soon.
See More of Amber Alena at PORNMEGALOAD.COM!