Emanuella Rossa: Erotic Attraction
Emanuella Rossa: Erotic Attraction
Emanuella Rossa's erotic and sensuous looks and personality get Michael Fly rock-hard and eager to run his hands all over her shapely body. Boob-drunk Michael buries his face between her soft, massive tits and licks Emanuella's nipples and her large tawny areolae. She is the dream bedmate for any breast-obsessed man.
Emanuella can be passive or assertive, depending on her partner. Here she's both. She's assertive when she rubs Michael through his pants, takes his cock out and drools over it as she slowly sucks and runs her tongue over his shaft. "My special talent is giving blow jobs," Emanuella said. That and many more skills.
She's passive with Michael as he fucks her in missionary and from behind, then takes over when she rides his cock hard and fast on top of him, her heavy, huge tits bouncing. That, and Emanuella staring at him with a knowing smile on her beautiful face, makes him explode all over her treasure chest.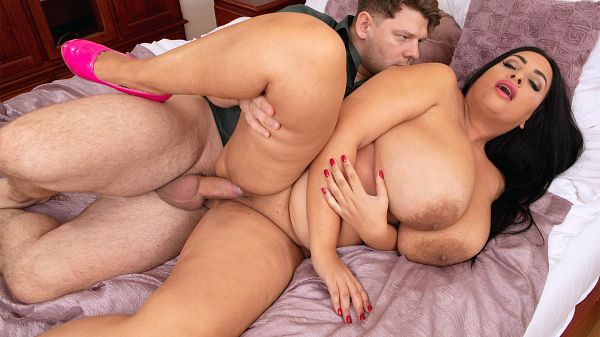 See More of Emanuella Rossa at PORNMEGALOAD.COM!