DP Pool Party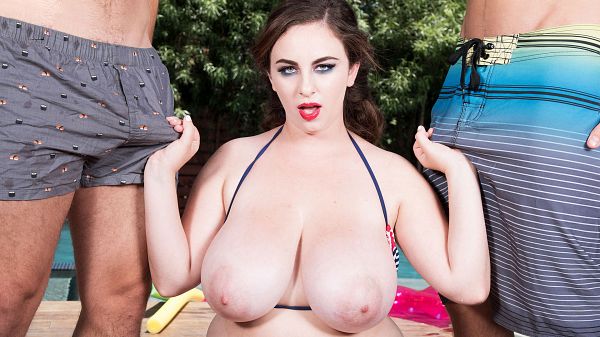 This is Milly's first-ever DP, not just here but in her entire life. She's never done a double-penetration with two guys.
It's a sunny day for a bikini pool party, and that's what Milly is having with her two guests–two dudes. Bikini babe Milly kills her swimsuit. The bikini's top strings must be made out of some space-age material that doesn't snap under pressure.
Her friends stop shooting each other with water guns to spray Milly instead. They tug on her bikini, which is coming off anyway. The fun and games turn to another kind of game when Milly gets off her float to lead the guys inside for some indoor activities.
They sit and flank Milly on the couch and she leans forward, taking each cock in hand to suck it or stroke it. One fucks Milly's huge tits and fingers her pussy while the other fucks her wet mouth. Then they swap to enjoy each side of Milly. There's no question that Milly has the biggest and best boobs they've ever been lucky enough to get their hands on and the most beautiful face.
Milly gets fucked in missionary first while Guy #2 gets Milly's mouth and throat. They swap sides and Milly gets a hard pounding from behind. Milly's two-man pleasure party continues and reaches a monitor-melting double-penetration when she sits on one guy, taking his pole deep in her butt and leans back while her second pool boy fucks her in missionary. As Milly's said before, if you're going to fuck someone, you have to give it your all and be the best fuck they've ever had. And that's what Milly always does.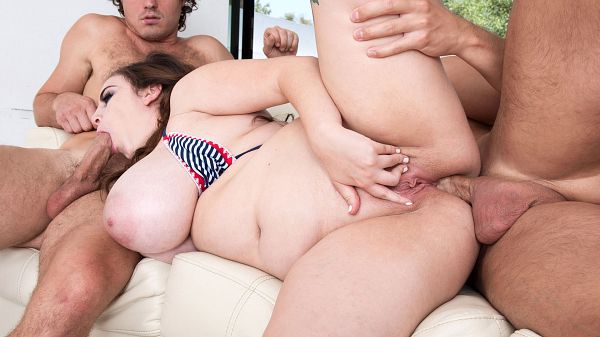 See More of Milly Marks at MILLYMARKS.COM!