Potential Superstar is only 18 and over six feet tall!
Potential Superstar is only 18 and over six feet tall!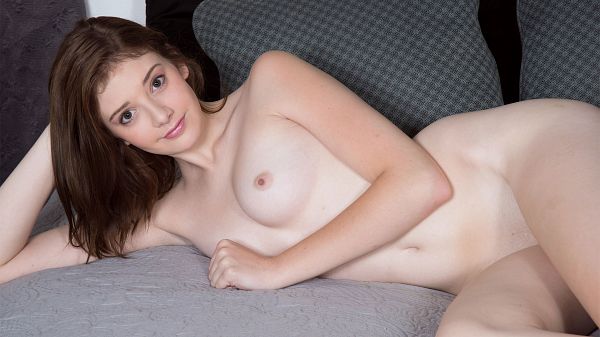 Lives: Lynchburg, Virginia; Occupation: Candy shop girl; Age: 18; Born: July 18; Ht: 6'1″; Wt: 150 pounds; Bras: 34B; Panties: Lace and thongs; Anal: No; BJs: Spit; Masturbate: I'd rather fuck.
We have been photographing amateur girls for over 20 years. After all this time, we have a pretty good eye for potential porno superstars. We could tell as soon as she set foot in our studio that she is something special, and we got to shoot her before any other company. "My boyfriend supports my decision to go into modeling. He thinks the idea is pretty hot. I'm glad to have his support and love!
"I show cleavage when I go out, but I'm not slutty about it. I love catching guys staring! It's easy because I'm so tall, my boobs are eye level!
"My kinkiest encounter was with two guy friends. We were on the couch groping, licking, and fingering. We didn't fuck, but it was still exhilarating. One of those guys is now my boyfriend.
"I'm having sex two or three times a day right now. I'm a naturally horny person! I have to take breaks now and then because my pussy gets sore. I'm really, really tight down there! I'm looking forward to fucking a porn stud guy, but I'm a little nervous about what their cocks will do to me! As long as they work up to rough sex (my fave), I think I'll be fine. I'm sure this new porn adventure is going to be fun!"
See More of Blaire Ivory at PORNMEGALOAD.COM!