Follow the Bouncing Boobs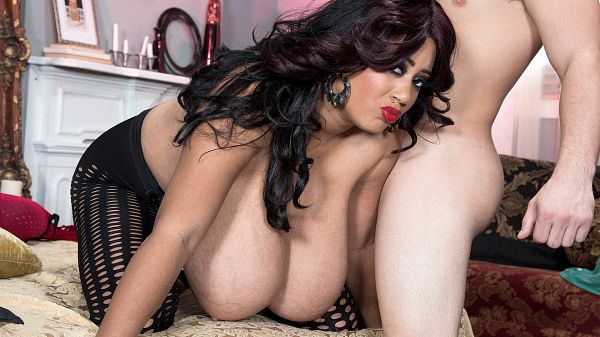 It appears that Roxi Red's overloaded brassiere is just too small to contain her jumbo whoppers. The company that made that bra did a great job producing straps that don't snap under tremendous pressure. Peter jiggles Roxi's huge jugs by the straps and her hooter holsters don't collapse from structural failure.
Cumming on Roxi's tits is on many breast-lovers' dream to-do list of potential accomplishments. Even a guy with the worst aim on earth couldn't miss them.
Peter has a boob feast of Roxi's mammoth melons, sucking and licking and burying his face inside her cavernous cleavage. She bends over his cock and pops it between her lips for an oral dissertation, then gets her tits fucked in the classic way, on her back and straddled.
When this Amazon of a woman is fucked, the view of her boobs shaking and bouncing is one of the world's greatest natural wonders. And when Roxi climbs on top of his pole and rides, the camera moves in for a point-of-view angle of her bouncers that's unbelievable.
See More of Roxi Red at ROXIRED.COM!