East Meets Breast 2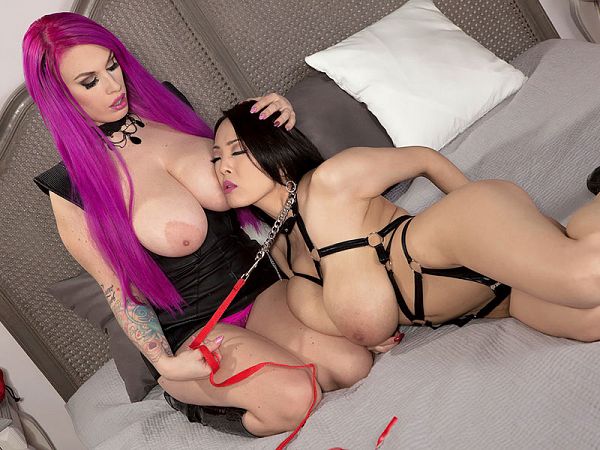 Black-booted Lily Madison is a sweet and demanding dominatrix. Hitomi is the submissive, obedient to Lily's will…for mutual pleasure, of course. In Lily's hand is a version of a cat o' nine tails. She has Hitomi on a leash like a dog. Lily runs the multi-tails of her whip over Hitomi's big breasts and relishes the power she has over the girl from Japan whom every man wants in his bed.
Lily places her foot on the bed and makes Hitomi lick her boot. Hitomi runs her long pink tongue over the length of the shiny PVC boot. She looks up for approval and Lily taunts her exotic slave. "Does it taste good?" Lily asks? "Yeah," Hitomi replies, licking the boot from top to bottom and back.
Lily orders Hitomi on all fours and whips her tiny ass. The pleasure of having her way with Hitomi's beautiful body satisfies Lily's fantasy. Demanding that Hitomi kneel on the bed, she whips Hitomi's boobs and makes her lick her nipples. Lily wants Hitomi to make her cum and sticks a vibrator in Hitomi's mouth to make it wet. Lily lays back and tells Hitomi to fuck her pussy with the toy. Their fun and games are far from over.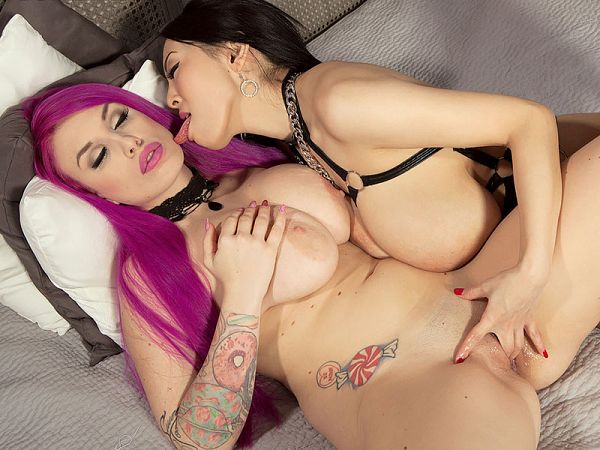 See More of Hitomi at BIGTITHITOMI.COM!